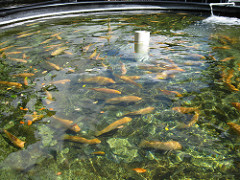 Aquaculture, also known as aquafarming, is the farming of aquatic organisms such as fish, crustaceans, molluscs and aquatic plants. Aquaculture involves cultivating freshwater and saltwater populations under controlled conditions, and can be contrasted with commercial fishing, which is the harvesting of wild fish. Mariculture refers to aquaculture practised in marine environments. Particular kinds of aquaculture include fish farming, shrimp farming, oyster farming, algaculture (such as seaweed farming), and the cultivation of ornamental fish. Particular methods include aquaponics, which integrates fish farming and plant farming. Source: Wikipedia
The Fish Farm
Empowering People Network. The fish Farm
Prosperity through community based aquaculture
The Fish Farm is a patented, micro-intensive fish farm designed within the confines of a 12-metre shipping container, delivering 2–4 tons of tilapia (or other species) annually. By placing a series of tanks, filters and pumps inside a container, the product immediately delivers a profitable, affordable, transportable and replicable aquaculture business into poor urban or rural communities.The Prototype comprises 6 tanks (in a row) of 1,500 liters each, a 200 liters solids filter (to deal with the solid waste) and a 5,000 liters bio-filter (to deal with the chemical waste), a circulation pump and an aerator. The Fish Farm dumps 1% of its volume per day to maintain water quality. A fish farmer would be able to supply this fertilized water to the vegetable farmers. The required space for the Fish-Farm is minimal. The energy for its operation can be obtained by solar power. The Fish Farm is a simple and environmentally compatible way of ensuring food security, creating jobs and making profits.
Photo by Bytemarks
Photo by doegox
Photo by Virginia Sea Grant