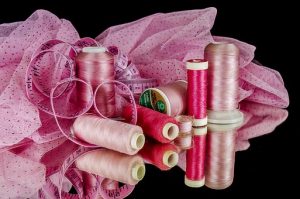 Sewing is the craft of fastening or attaching objects using stitches made with a needle and thread. Sewing is one of the oldest of the textile arts. For thousands of years, all sewing was done by hand. The invention of the sewing machine in the 19th century and the rise of computerization in the 20th century led to mass production and export of sewn objects, but hand sewing is still practised around the world. Fine hand sewing is a characteristic of high-quality tailoring, haute couture fashion, and custom dressmaking, and is pursued by both textile artists and hobbyists as a means of creative expression. Source: Wikipedia
If you have an interest in fashion and consider yourself to be creative, this may provide you with an introduction into the exciting world of fashion. Creating home furnishing such as curtain, cushions and tablecloths is of course another option as is upholstery making. Once you know how to sew, you are able to offer many different services from repairing garments, and designing and creating your own clothing, to creating home items such as cushions and curtains that you can then sell. Have you ever considered sewing soft toys to sell at markets?
Learn to Earn, Sewing
Learn to Earn is a skills development organisation that assists unemployed people become financially active by offering holistic training courses that provide work skills, life skills and business skills. Students are taught a range of sewing skills using industrial sewing machines. At the end of the course, graduates will have a range of sample garments as well as a workbook/portfolio of skills learnt.
Photo by Skyangel 
Photo by jackmac34 
Photo by Larisa-K 
Photo by Meineresterampe