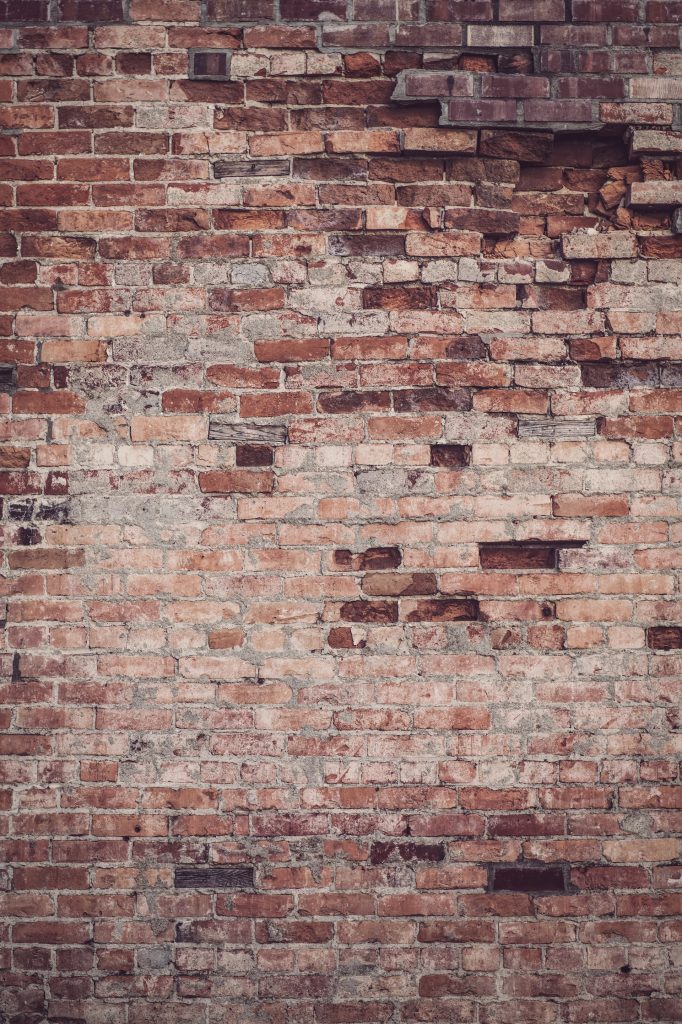 A brick is building material used to make walls, pavements and other elements in masonry construction. Traditionally, the term brick referred to unit composed of clay, but it is now used to denote any rectangular units laid in mortar. A brick can be composed of clay-bearing soil, sand and lime, or concrete materials. Bricks are produced in numerous classes, types, materials, and sizes which vary with region and time period, and are produced in bulk quantities. Two basic categories of bricks are fired and non-fired bricks.
Block is a similar term referring to a rectangular building unit composed of similar materials, but is usually larger than a brick. Lightweight bricks (also called "lightweight blocks") are made from expanded clay aggregate.
Fired bricks are one of the longest-lasting and strongest building materials, sometimes referred to as artificial stone, and have been used since circa 5000 BC. Air-dried bricks, also known as mudbricks, have a history older than fired bricks, and have an additional ingredient of a mechanical binder such as straw.
Bricks are laid in courses and numerous patterns known as bonds, collectively known as brickwork, and may be laid in various kinds of mortar to hold the bricks together to make a durable structure. Source: Wikipedia
Where can I learn?
Institute of Ceramic Education (ICE)
The Institute of Ceramic Education (ICE), affiliated to Cermalab offers its brick-making course either on a three monthly basis (the five day Basic Brick-making Course) or over a period of sixteen weeks (the 8 Module Basic Brick-making Sandwich Course), providing that no fewer than ten (10) students attend.
How to make bricks
How does one make brick and blocks? What is needed in order to start a brick and block making yard?
These are some of the questions you may find asking yourself, if you haven't we suggest you do. Have a look at some of the following points you may want to consider.
Make your own bricks from soil
How to make bricks to build a home: including the five basics of blockmaking, soil composition, and mixing the bricks.
How to make bricks from concrete
The primary use of bricks has been for wall coverings over the years, but they can be used for decorative purposes as well. Historically, the common brick has been molded from clay and fired in a kiln. But that isn't the only way you can make brick. Another way, popular with do-it-yourself types, has been by using concrete. You can make bricks from concrete by following a few simple steps.
What are the different methods for brick making?
This site covers the various methods of brick making and even talks about the history of brick making.
Fired clay bricks – A new technique for production
One of the most promising building materials for many countries is the fired clay brick. Traditionally produced in a cottage industry setting,fired clay brick production plays a major role in the informal economy. This website discusses aspects of creating bricvks using the fired clay method.
Stabilised soil brick making
Brick making remains an important industry in many rural and peri-urban areas, but the income it provides can be a very marginal one. Often there are large numbers of producers and the quality of bricks produced can vary greatly. Stabilised Soil Brick technology (also known as Stabilized Compressed Earth Block (SCEB)) allows producers to easily manufacture higher quality bricks and as a result receive a higher income for themselves.
Assessing the technical problems of brick production
A guide for brick makers and field workers.
Utilisation of cow dung in brickmaking
Addition of certain organic materials improves the plasticity of clay making it more workable.
The brick making process
This page is only an introduction to brick making and covers topics such as clay preparation, moulding the clay, drying the bricks and firing the bricks.
Steps involved in brick manufacturing
The four primary steps in the brick manufacturing process.
How to start a brick-making business?
How do I start a brick making business?
This website gives an overview of what could be involved in starting your own brickmaking business from a South African perspective.
Sustainable Small-Scale Brick Production – A Question of Energy
Increasing efficiency in small-scale brick production without reducing quality or under-firing.
Brick-making machinery
CSC. Quality brick making machines
The home of the quality brick and block making machines. If you are looking to purchase a brick making machine or block making machine, you have come to the right place. Our egg layers and static machines come standard with a M140 mould. Extra moulds required can be purchased separately. Optional extras for our static machines can be purchased independently to that of the machine for a more efficient production.
Birkenmayer. Electric brick making machines
Birkenmayer provides small brick making machines for production of up to 10 000 bricks per day, as well as medium to large brick making machines for production of up to 120 000 bricks a day. Every brick making machine for sale from Birkenmayer provides the local construction sector with a range of reputable, robust, easy-to-operate and cost-effective brick making solutions. Birkenmayer, a leader in brick making machine manufacturing in South Africa, has over 50 years' industry experience that will help guarantee the success of your brick making machine. Birkenmayer's brick making machines are suited to customers in a variety of sectors, including brick making plants, entrepreneurs, NGOs, DIY builders and concrete brick and paving manufacturers.
Birkenmayer. Electric block making machines
We supply smaller block making machines for manufacturing up to 10 000 blocks per day, and medium to large block making machines for up to 32 000 blocks per day. Every block making machine for sale from Birkenmayer is backed by 50 years' experience in the construction and material processing industry. Birkenmayer's block making machines are highly robust, easy-to-use and feature cost-optimising that helps ensure the success of your production line. Birkenmayer's block making machines are suited to a range of industrial sectors, including large block making plants, small-business entrepreneurs, NGOs, DIY contractors as well as concrete blocks and pavers suppliers.
The Brick machines company South Africa
The Brick Machines Company SA is the sole manufacturing company of the Agram range of brick manufacturing plants. This particular range of machine designs has been leaders in the brick manufacturing industry for over 10 years now. However, we will always continue with research and development, to improve on an already excellent product range. It is one of this company's main values, to ensure that our clients will continue receiving the most up-to-date technology in the brick manufacturing business.
BM Power – DIY Brick making machines
Doubell DIY Machines are world famous for being easy to use brick making machines at very affordable prices. We supply Brick Making Machines that deliver from 500 to 4800 bricks per day.
Wilkinson brick making machines
Our cost effective machines are perfect for any entrepreneur with access to labour and a ready market. Our machine is totally hand operated. After the bricks have been compacted the machine can easily be lifted by working one lever, and moved forward to repeating the process. With one worker, 1000 bricks can be made in a day. With 6 workers you can produce 1000 bricks per hour. If you are fortunate enough to have a cement mixer, fewer workers are required. The bricks are compacted and formed on their sides and can be removed the following day, stored and kept damp to harden in ± 2 weeks.
Profile Concrete Equipment
Profile Concrete Equipment manufactures from their factory in Cape Town, South Africa, a range of brick, block and paver machines to meet the needs of small to large ventures. Our range of machines are designed and build with the needs of Africa in mind.
Pan Mixers South Africa
Our block and brick machines can be manually or hydraulically operated and come with varying specifications and output capabilities, depending on the size of the operation. The entry level brick machines and block machines are manufactured and designed to be used by unskilled labourers and are labour efficient making them the ideal tool for both small and medium enterprises.